Tattoo You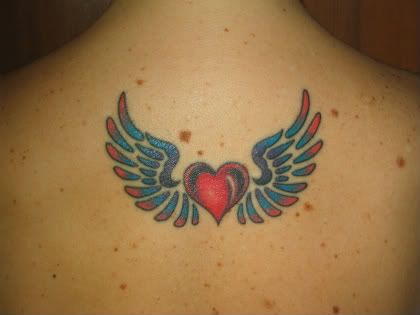 I had to wait until it was healed and not peeling before I posted. I think it looks pretty good, and pretty ambitious for a first tattoo. I just now have to find some cute shirts to show it off in appropriate situations...
We had back-to-back 3-day weekends. The first one was marred by crappy weather - rainy & cold. The second one was much nicer, even though it rained on Friday. I volunteered at the St. Paul Cinco de Mayo festival on Saturday. It was windy and cool, but in the sun it was pretty nice. On Sunday, it was in the mid-60s and I spent a good portion of the day out on the deck reading and absorbing some vitamin D. We did go see
Harold & Kumar
which was funny in a very low-brow way.
I'm actually going to try and get back into a gym routine beginning tomorrow. I haven't been able to go on a regular basis because of work, but I have to stop using that as an excuse. My weight has remained stable despite stress and long hours (in fact, maybe because of those factors).
The other good news is that I'm on my second week of being able to sleep through the night. It's making such a huge difference in how I'm feeling. I have a lot more energy and I'm not nearly as crabby. Plus, I'm not anxious about not sleeping through the night. The best part - I didn't do it with drugs. I think it's just less work-related stress and more regular hours.
I think one of the other reasons I'm feeling better is that the weather has finally turned the corner. I can even put up with some rainy days as long as it's warm and things are beginning to turn green. I'm getting outdoors more, breathing some fresh air and getting some rays.
Who needs Prozac with a few sunny days?
Labels: Depression, Life, Weather